Integrity in the aftermath of a historic earthquake | Takeda Stories
---
Integrity in the aftermath of a historic earthquake
When the Great Kanto Earthquake struck on September 1, 1923, 100 years ago, Chobei Takeda V, the then-president of our company, made innovative efforts to help patients and safeguard the future of medical treatment.
"Our company had already existed for 140 years at the time of the earthquake," says, Milano Furuta, president of our Japan Pharma Business Unit. "The actions of Chobei V truly embody the values of Takeda, which have been in place since the company's founding and still drive us forward today."
The story of the Great Kanto Earthquake
---
At 11:58 a.m. on September 1, 1923, a massive earthquake measuring 7.9 on the Richter scale struck Japan's Kanto region. Many people were preparing or eating lunch at the time, and large fires broke out in many areas. With its densely packed wooden buildings, Tokyo was quickly engulfed in flames. The earthquake also caused tsunamis and landslides, leaving some 105,000 people dead or missing. Approximately 290,000 houses were destroyed1,2.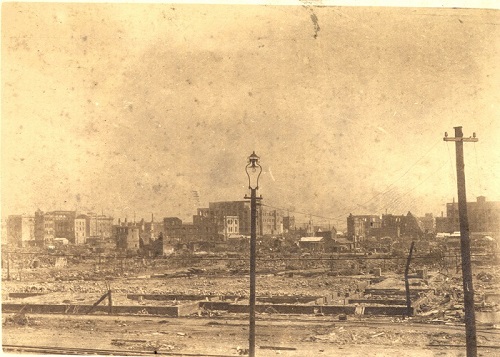 Burnt ruins in front of Tokyo Station2
The Japanese government scrambled to provide medical supplies to the injured and began an emergency requisition of medicines. Takeda received many requests for medical supplies in the disaster-struck areas.
Although our company's Kanto Branch had been affected by the disaster, some of its warehouses and factories had escaped damage.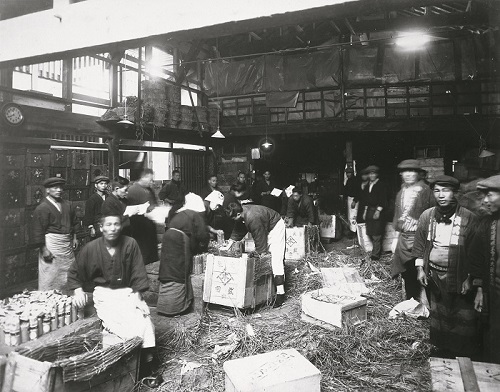 The Packing House at the end of the Taisho Era
Working together with his employees, Chobei was determined to respond to requests from both the government and private companies. It was impossible to complete all of the shipping work in the packing area due to the huge volume. Chobei embraced unconventional measures, such as packing items in an empty lot. Within a month of the disaster, our company had shipped some 145,000 medical products, far exceeding normal shipping volume.
But Chobei wasn't satisfied with shipping only Takeda products. He knew patients still needed other kinds of medicines. As the head of an industry association in Osaka, he successfully persuaded his association colleagues to provide much needed medical supplies to the affected areas3,4.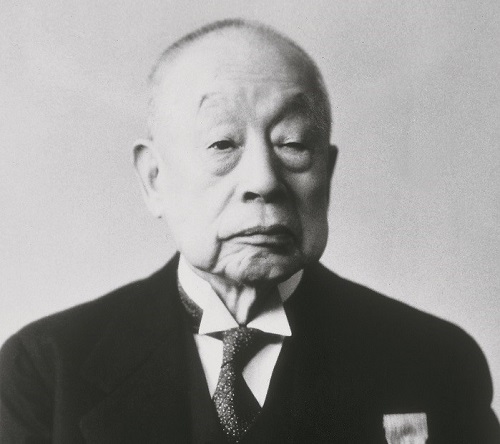 Chobei Takeda V
From life-saving medicines to life-saving knowledge
---
Chobei was heartbroken that, in addition to lives and property, the earthquake also damaged or destroyed many books of academic value.
Chobei used his personal funds to collect and preserve surviving academic books. The collection later came to be known as the "Kyō-u Library" – "kyō" means medical academia and "u" signifies a blessing – in the hope that it would enrich medical knowledge and encourage the growth of medicinal herbs. The Kyō-u Library now serves as a resource for future generations.
"Despite changing times and advancements in science and technology, the values Chobei demonstrated have remained unchanged and have been passed down to the present day," says Furuta. "We are and we will be guided by our patient-centric values of putting the patient first, building trust with society, reinforcing our reputation and developing a sustainable business."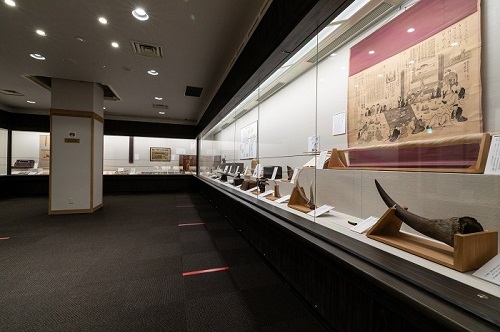 Exhibits at the Kyō-u Library
*This article is a reconstruction based on Takeda's Bicentennial History (main volume) and The History of Takeda (Japanese translation).