Digital health solutions improving patient experience | Takeda Stories
---
Drones, robots and digital apps yield promising results for patients in Japan
Takeda tests innovative ways to bring health care directly to patients.
Imagine that you live on a remote island in Japan. You have a chronic disease, and you need to take daily medication to control your symptoms. But getting to the nearest hospital or pharmacy means taking a 40-minute boat ride.
This is a reality for many people who live in Gotō, a city in Nagasaki Prefecture in Japan that includes 11 inhabited islands. But Takeda's Japan Pharma Business Unit (JPBU) is looking to help patients stay on dry land. After a pilot program using drones to increase patient access to medicine across Gotō's islands (the drones delivered the medicine to health care professionals who then delivered it to patients), the team now plans to test the project in other difficult-to-reach regions in Japan.
"In Japan we have some urban regions, and others very rural," JPBU Distribution & Regional Access Manager Takehiro Hirano said. "We've been focusing on each region's specific health care issues and looking at how we could solve their problems using drones, automated machines, robots and more."
According to the president of Takeda's JPBU, Milano Furuta, this kind of innovative spirit has been core to Takeda's longevity, and is central to the company's future as well.
"We want to bring value to society, and not only by selling meaningful medicines," Furuta said. "We also want to contribute to the patient experience throughout their journey, from diagnosis to improving quality of life for patients."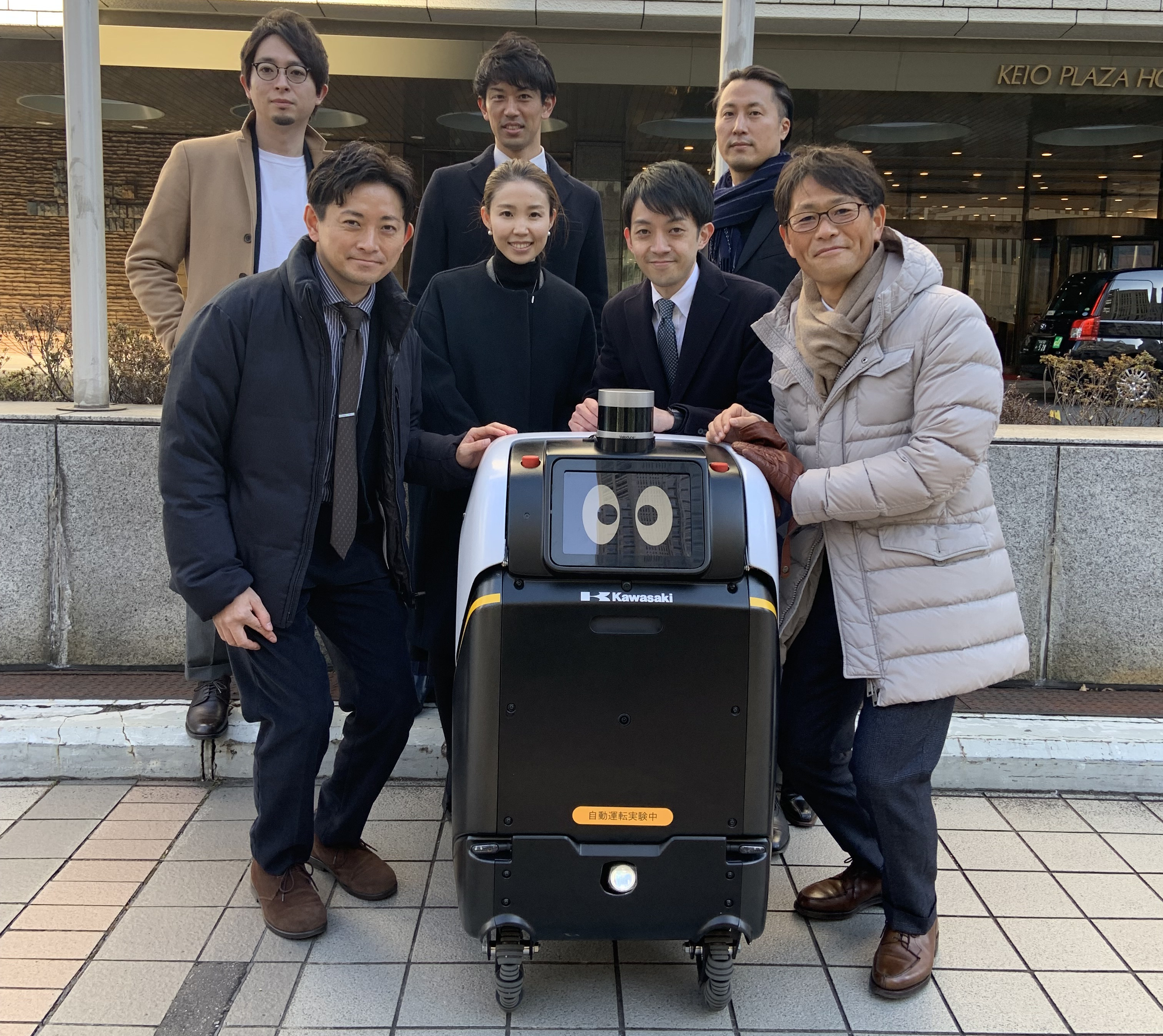 The Takeda team in Japan proudly posing with the robot used to collect medical devices
Using robots to collect used medical devices
---
In an example of working to improve patient quality of life, Takeda is testing the use of robots to collect medical waste directly from patients with hemophilia who treat themselves at home via self-infusion. For these patients, hospital and pharmacy visits are time-consuming and potentially risky — but home treatment may come with certain burdens as well, especially when it comes to disposing of used medical devices that carry a possibility of infection.
"We want to use innovative solutions to solve problems across Takeda's therapeutic focus areas," JPBU Rare Disease Business Unit Manager Mizuki Kakinuma said. "For example, we know patients with hemophilia carry a lot of burdens with this disease."
It took a year to prepare for a demonstration of the concept, in collaboration with Kawasaki Heavy Industries and supported by the Tokyo Metropolitan Government, in which a robot traveled to a hotel meant to simulate a patient home to collect used medical devices from a patient.
The patient who participated in the demonstration said simulated at-home collection increased his options for device disposal. Kakinuma sees enormous potential to expand the technology across disease areas and use cases.
A digital monitoring solution for patients with Parkinson's disease
---
Another example of exploring improvements to a patient's care journey involves Parkinson's disease. Patients with this disease experience tremors and other symptoms that fluctuate in severity throughout the day and can be challenging to describe. Continuous monitoring helps doctors develop effective treatment plans, but medical-grade monitoring devices are heavy and difficult for patients to wear 24/7. So, a project team, including members from commercial and medical teams, sought a solution.
Through a partnership with Kanagawa Prefecture south of Tokyo, Takeda created an integrated care solution called "Care for One." The solution measures Parkinson's disease symptoms via an app, using a program that Apple Watch1 built to capture movement disorders. Patients can enter additional medical information into the iPhone app and send comprehensive data directly to their doctor's computer.
While the app isn't as accurate as a medical-grade device, it allows physicians to identify possible or suspected symptom trends. In fact, it's the first program in Japan that lets patients and doctors visualize Parkinson's disease symptoms on charts displayed on the mobile app. And since there are many iPhone users in Japan, adoption is easy.
"Care for One sought to address patient challenges with symptom monitoring, and so many patients wanted to join the study that the recruiting for this program went far faster than expected," said Global Data and Technology Enterprise Digital Japan Lead Masaru Otsuka.
The project team has since published numerous papers sharing results from the study, including "Health care and the Fourth Industrial Revolution," a briefing paper written in partnership with the World Economic Forum on advancing technology changes in health care.
Care for One, delivering medicine using drones, and using robots to collect used medical devices all help Takeda explore patient-centered health care solutions in Japan.
"We're very close to patients and we know their needs," Otsuka said. "So, it's important for us to develop patient-centered solutions."
JPBU president Furuta says he hopes pilots such as these increase Takeda's opportunities to innovate and collaborate.
"We want to attract all kinds of stakeholders who have interesting and creative ideas, so we can innovate together," Furuta said.
Apple Watch and iPhone are trademarks of Apple Inc., registered in the U.S. and other countries and regions.