United for Diabetes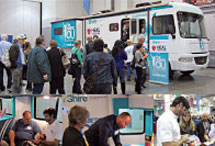 Last November, eight million people  living in New York, Dallas, New    Orleans, Atlanta, Pittsburgh, and  Cleveland woke up to a special supplement in the U.S. national newspaper  USA Today. "United for Diabetes," the fourteen-page independent insert had been sponsored by Shire as part of a continuing effort to raise awareness about the seriousness of diabetic foot ulcers.
Comprehensive in scope and accessible in nature, the publication touched on all aspects of diabetes— from diet and periodontal care to neuropathy and new treatment technologies. On page 10, supplement readers were introduced to Dr. Susan Guzman, who, as the director of Clinical Services at Behavioral Diabetes Institute, has gained a broad perspective on the attitudes and responses that diabetic patients have toward their own disease. She understands their frustration.
She understands their discouragement. And in a brief piece she offered  solace: You don't have to be perfect, do everything all at once, or give up all the foods you enjoy to have well managed diabetes,"  wrote Susan, who also serves as a consultant to Shire. "Starting with a small action toward better management right now can have big payoff down the road."
Justin Gardner, who leads this programme, notes that the USA Today supplement  is one in a series of educational outreach programs organized and  launched by the consumer marketing team. The consumer campaign will kick off in March with a bus tour, robust digital campaign, and eventual television advertisements.
We're committed to developing a patient centric approach that encompasses not just awareness but also education and adherence programs," says Gardner, who notes that up to 25% of those who are diagnosed with diabetes will develop a foot ulcer in their lifetime, "We want to produce programs that help patients realize the serious nature of diabetic foot ulcers, empower them to take action, and support them through the healing process. We want to do more than just deliver a product; we want to be a partner in helping people living with diabetes deal with their disease.