National Action Plan for ADHD
National Action Plan for ADHD
---
Raising awareness in Spain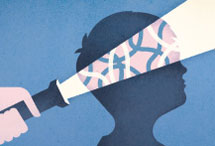 One of the biggest challenges facing the families of patients with  ADHD is often a general lack of awareness. Another is when patients and their families are insufficiently equipped to deal with the wider societal impacts—despite excellent support by dedicated professionals.
Shire recognized just this situation in Spain two years ago, where many professionals were providing among the best support in Europe, but were nevertheless lacking the ADHD networks and joined-up perspective needed to tackle the wider issues facing patients.
At this point Shire Spain launched an ambitious program to help—the PANDAH Project (National Action Plan on ADHD)—which is already starting to shape a better environment for those living with the condition.
We began by talking to Patient Associations, key opinion leaders, and education and healthcare professionals, many of who were working in isolation. "Patients said that this lack of a shared perspective really wasn't helping them," says Sales & Marketing Director Alvaro Herreros who is leading Shire's efforts.
There was also very low public awareness—just four per cent of the general public recognized the term 'ADHD'—while despite some excellent medical re- search, more could be done to explore the complex social and economic impacts of ADHD. "That's when we realized we were in a privileged position to bring all of these stakeholders together, build vital connections between them, share perspectives and raise awareness of ADHD to a new level," he continues. "This was never about Shire's own voice, but our role as a catalyst, an activator and a connector for others."
After assembling steering and scientific committees, Shire and the other program stakeholders analyzed what was currently working and what wasn't then identified what they could do to improve the situation. This has included running sessions to educate journalists on the science of ADHD and the right sources of information plus gathering data on what more research could be undertaken. We have also incentivized Patient Associations to develop their professional capabilities and practical work through an award and grant.
"Perhaps most significantly we've attended at least 55 meetings with public institutions at the local and national level to share evidence from the program about the needs of patients and the political measures that needed to be taken," says Vice President and General Manager of Shire Spain, Javier Urcelay. "These were attended by a patient representative, an education psychologist and a key opinion leader to ensure that the right stakeholder voices were heard."
All of this effort has started to render real results. The Spanish Parliament has issued an official non-Law Proposition requesting the Spanish Government to improve the diagnosis and treatment of ADHD, and already two Autonomous Regions are interpreting this through new protocols and processes. "It will be a huge achievement if we successfully raise awareness and build a global perspective of ADHD, but there are many more dimensions that still need to be addressed," continues Javier. "One is the poor connection between the health and education systems while another is maintaining support as patients make the transition from childhood into adulthood. By closing those gaps together we can add a lot of efficiency to the system.
"As for Shire's own commitment, we want to explore what other value-added programs we can provide to improve the situation whether educational, diagnostic or in the area of patient support."