Guatemala Humanitarian Airlift
Guatemala Humanitarian Airlift
---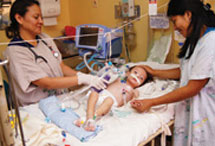 Shire recently participated in a humanitarian airlift to Guatemala with AmeriCares, a  non-profit humanitarian assistance aid organization, to see the impact of its programs "on the ground."
The trip was organized to give visibility to AmeriCares' work, as well as to bring much needed medicines and supplies to charities in Guatemala serving needy populations. In addition to delivering supplies, the trip served to strengthen relationships with AmeriCares' charity partners, educate donors about the local health care system and demonstrate how donor support is utilized to improve the quality of life in underserved regions of Guatemala.
"Our partnership with AmeriCares is key as we work towards Shire's Vision," says Jonathan Poole, SVP Finance. "It enables us to bring our therapies to patients with rare diseases around the world in countries where they would not ordinarily be available. Although the trip was very brief—we were on the ground for only about 16 hours—we managed to learn a lot about the challenges faced by Guatemala's people and its healthcare system and the positive impact made by AmeriCares, its local partners and companies like Shire.
"Since 2001, Shire has partnered with AmeriCares to donate medicines that have supported needed treatment for patients in 48 countries, as well as AmeriCares' Emergency Response activities in times of need. This year, AmeriCares and Shire have expanded their partnership to provide needed charitable access to rare disease patients suffering from Fabry disease, Gaucher disease and Hunter syndrome.
More than 70 individuals participated in the two-day trip to Guatemala at the end of September 2012. Participants visited three different kinds of health care delivery facilities in Antigua, a town of approximately 30,000 located about an hour's drive from Guatemala City including a public hospital, a nursing home and a facility serving individuals of all ages with severe disabilities.
AmeriCares has been delivering vital medical assistance to Guatemala since 1986, reaching millions of people who desperately need health care. Its network of far-reaching partnerships across the region allows them to respond to local health needs through national and regional hospitals, clinics, orphanages and rural health posts. Overall, AmeriCares has delivered $550 million in medicines and medical supplies to Guatemala, with more than $11 million in 2012 alone.